Projekt podporují
Support Committee: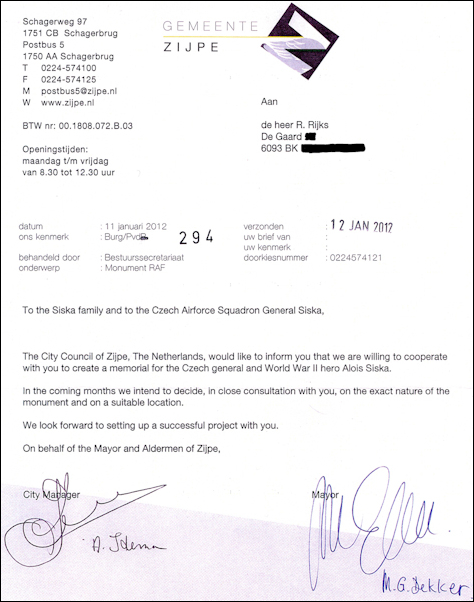 .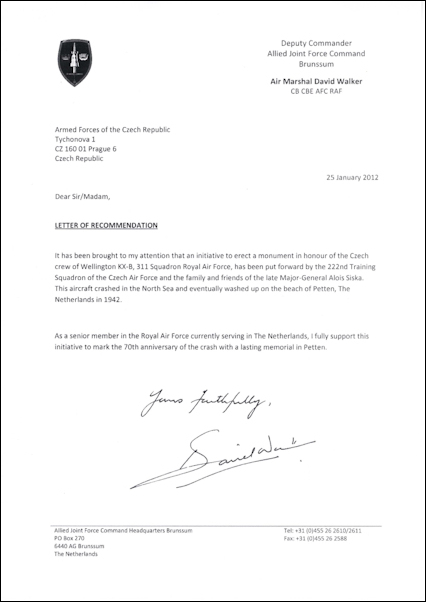 .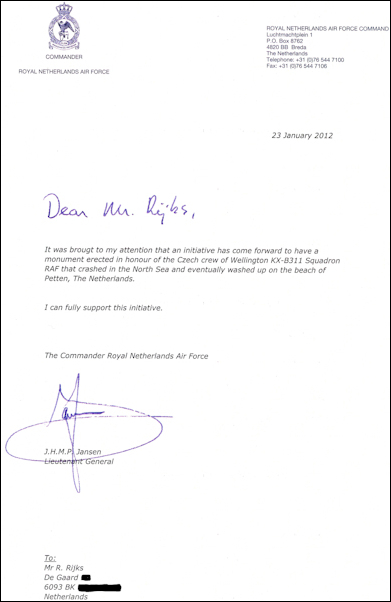 .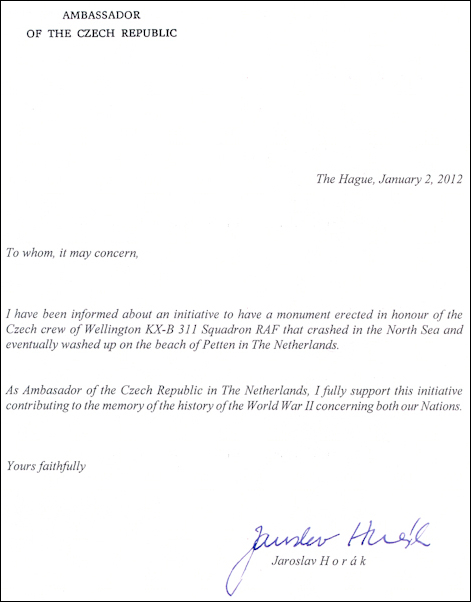 .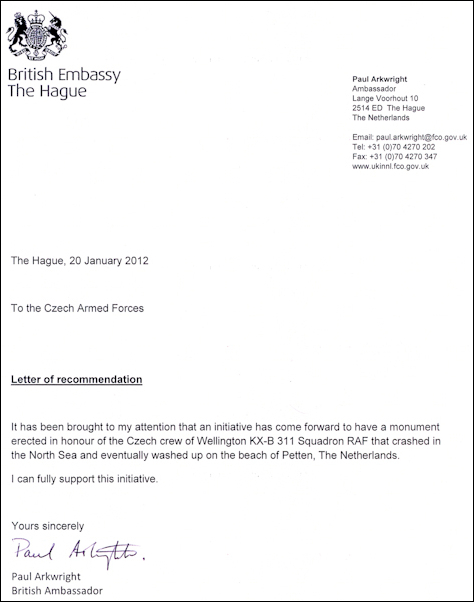 .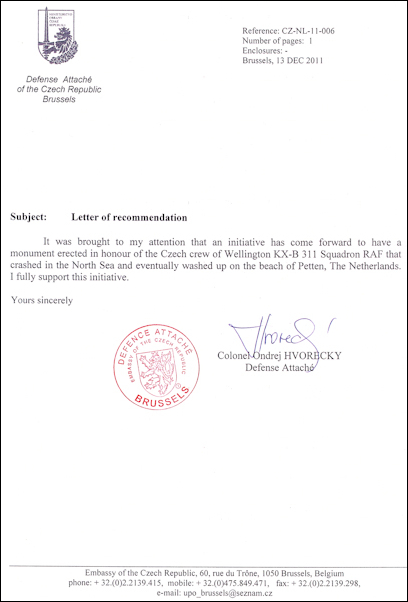 .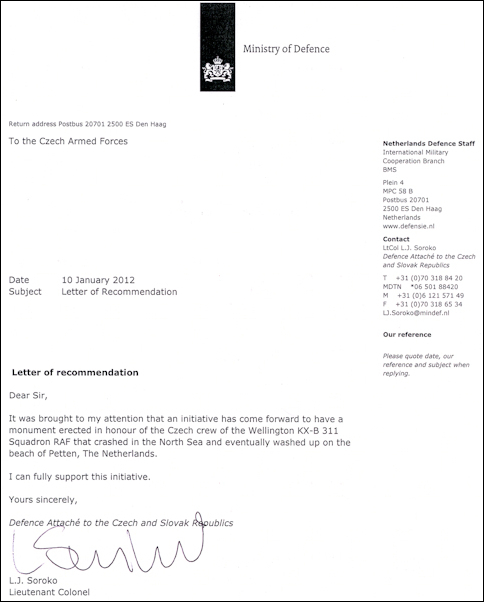 .
Captain Bártl from the Military Air Force Club in Náměšt nad Oslavou sent us the following message of support (quote):
…."Why?….
…Our Military Air Force Club was established back in 1992 by like-minded people interested in flying. One of the main reasons why people want to fly is the feeling of freedom. We can fulfil this dream today thanks to airmen like the crew of KX-B, because without their sacrifice we would not have that freedom.
This project is just a small contribution to ensure that their courage to stand up to evil is never forgotten. Let it be the monument to that courage, strength and ultimate sacrifice with which they fought for our future, for our freedom.
…That's why…"
Kapitán Bártl z Vojenského Leteckého Klubu v Náměšti nad Oslavou nám vyjádřil následující podporu (citováno):
"……Proč?….
… vojenský letecký klub vznikl v roce 1992 ze společného zájmu několika lidí o létání. Jedním z důvodů proč lidé naplňují svoji touhu létat je, že jim létání dává pocit volnosti a svobody. Za to, že dnes můžeme naplňovat tuto touhu, vděčíme takovým lidem, jako byli v posádce letounu KX B. Bez jejich činů bychom neměli svobodu, neměli létání.
Tento projekt je jen nepatrným příspěvkem k tomu, aby nebylo zapomenuto odkazu těch, kteří ukázali jak se postavit proti zlu. Je připomínkou jejich odhodlání, síly, odvahy a oběti, se kterou bojovali za naši budoucnost, za naši svobodu.
… Tak proto…"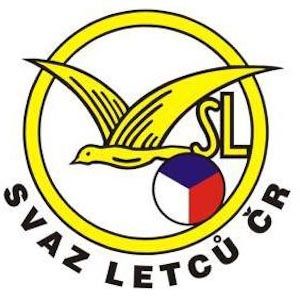 The Czech Airmen Association fully supports the idea of creating a memorial to the crew of
Wellington KX-B of Sgt. Alois Šiška, who, following a successful emergency landing in the North Sea on 28.12.1941 were washed ashore in a dinghy on the Dutch coast.
We would also like to ask for the name of our association to be added to the Support Committee.
Czech Airmen Association
Colonel Oldřich Rampula
Chairman
Svaz letců ČR plně podporuje myšlenku vybudování památníku posádce
Wellington KX-B sgt. Aloise Šišky, která po úspěšném nouzovém přistání na volném moři dne 28.12.1941 byla na záchranném člunu dinghy vyplavena na holandské pobřeží.
Zároveň máme zájem, aby jméno našeho sdružení bylo uváděno v seznamu osobností.
Svaz letců České republiky
Plukovník Oldřich Rampula
Předseda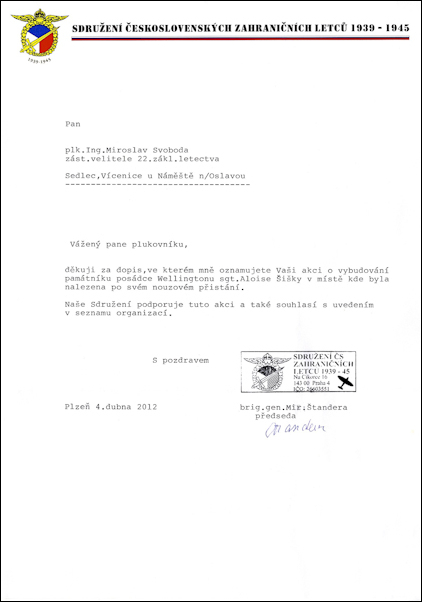 Moderators translation:
Dear Colonel,
Thank you for your letter announcing the project to build a memorial to the crew of Alois Siska on location where they came ashore after their emergency landing at sea.
Our Association fully supports this project and also agrees for our name to be added to the list of supports."
Yours sincerely
Brigadier General Mir. Standera
Chairman
Association of Czechoslovak Airmen 1939 – 1945
……
Odpovídám na dopis zástupce velitele 22.základny letectva plk.Ing. Miroslava Svobody, týkající se zbudování památníku československému letci Aloisi Šiškovi a posádce jeho bombardéru.
Tato myšlenka je chvályhodná a jsem rád, že mohu být zapsán mezi těmi, kteří ji zaštiťují.
Zdeněk Svěrák
herec a scenárista
Moderators translation:
I am replying to the letter from Lieutenant Colonel Dipl. Ing. Miroslav Svoboda, deputy commander of the 22nd airbase about the project to build a memorial to the Czechoslovak airman Alois Šiška and his bomber crew.
This is a praiseworthy idea and I am glad that I can be listed amongst those who support it.
Zdeněk SVĚRÁK
Actor and Film scriptwriter
_______________________________________________________________
Our Sponsors / Naši patroni:
.
.
.
.
.
Donations received so far:
K dnešnímu dni přispěli:
.
Czech Republic / Česká republika
212. tactical squadron, Čáslav / 212. taktická letka Čáslav
Aeroplane Modelling Club, Kopřivnice (MK SMČR č. 240 Apolo Kopřivnice) /
MK SMČR no. 240 Apolo Kopřivnice
BOUSA Jaroslav
BARENTZ spol. S.R.O.
CHROMÁ Martina
HERMANSKY Jerry
HOLÝ Michal
HVORECKÝ Ondrej
HUBÁČEK Petr
KRATOCHVÍL Pavel
LINHART John
Museum of the Air Battle over the Ore Mountains 11.9.1944 in Kovářská / Muzeum letecké bitvy nad Krušnohořím 11.9.1944 v Kovářské
PÍCHA Petr
Private Club TMAVOMODŘÍ
ROSECKÁ Olga
SIKAČ Jiří
SOFILKANIČ Jiří
ŠTICH Václav
VANČATA Pavel
Great Britain / Velká Britanie
BELL David
JOHNSON Ian & Dagmar
PARK Joseph
SHIPLEY Michael John
SPARKES Branwen – In memory of her late husband Martin Sparkes /
Na památku manžela Martina Sparkse
Holland / Holandsko
LANGEDIJK Gertjan & Maartje
Committee of the MONUMENT OF TOLERANCE / Výbor PAMÁTNÍKU TOLERANCE Leudal
Canada / Kanada
CAMPBELL Ryan
JAKUBEC Jaroslav
SEDLACEK Josef
USA
GROSS Hanford
.
_______________________________________________________________
.